View Store Directory:
---
or view all stores:
or view printable directory:
20 Lounge
20Lounge is a boutique nail bar offering a revolutionary beauty experience - essential beauty services in a modern, ultra clean and cool lounge environment! Our customers receive innovative nail, wax and facial treatments while enjoying the latest tunes and their choice of beer or bubbly from the Bubbly Bar. And what's a girl to do once she looks great and feels great – go shopping - so If you are in the mood 20 Lounge offers a fashion-forward retail boutique featuring great beauty and fashion finds. See you soon.
Phone: 480.348.2020 / Location: South Street / View Directory Map
---
The Apple Store
The Apple Store is the best place to try all of Apple's products and find great accessories. Our Specialists will take the time to answer your questions and set up your new Apple product just the way you want it. You can learn something new in a free workshop. Consult with the Business Team about the perfect solutions for your company. Or visit the Genius Bar to get hands-on technical support. Learn more at www.apple.com/retail or download the Apple Store app from the App Store.
View Gift Ideas
Phone: 480.627.5501 / Location: 72nd Place / View Directory Map
---
Asics
ASICS, an acronym derived from the Latin phrase, Anima Sana In Corpore Sano - a sound mind in a sound body. Staying true to the philosophy by which it was founded, every ASICS innovation, every concept, every idea is intended to create the best product. Our mission is to become the number one brand for the sports enthusiast. To accomplish this, we pledge to continue to make the best product; striving to build upon our technological advances and pushing the limits on what we can learn from the body and its needs in athletic gear. We pledge to bring harmony to the body and soul.
Phone: 480.207.2928 / Location: The Quad / View Directory Map
---
Bath & Body Works
For the past decade, Bath & Body Works has reinvented the personal care industry with the introduction of fragrant flavorful indulgences, including shower gels, lotions, candles and accessories. It's focus is on creating and offering the best products, and an emphasis on innovation from nature, Bath & Body Works is destined to become the ultimate personal care destination.
Phone: 480.951.5024 / Location: 72nd Place / View Directory Map
---
Buckle
Buckle offers a unique mix of apparel, accessories, and footwear for men and women of all ages who seek to express their individuality through fashion. Buckle carries a wide selection of brands including: BKE, Big Star, Rock Revival, Affliction, Sinful, Miss Me, Daytrip, Archaic, Rebel Spirit, Roar, OBEY, 7 Diamonds, Billabong, Hurley, and Fox, among others. Schedule a Personal Denim Fitting with a Buckle Denim Specialist to find your next favorite pair of jeans.
Phone: 480.607.6531 / Location: The Quad / View Directory Map
---
C3 Kitchen
Happy Hour at C3 Kitchen
Receive $.50 off of any coffee bar drinks, Monday-Friday from 7a-10a.
Phone: 480.998.2880 / Location: South Street / View Directory Map
---
Calvin Klein Performance
Calvin Klein Performance offers a full range of women's athletic and performance wear. The line utilizes materials and designs to enhance the multi-dimensional lifestyle associated with women's sports and activities. All of the items feature clean lines, classic cuts, and color palettes which seamlessly transition from the gym, the studio, the courts, and the field to complement the active lifestyles of today's modern women.
Phone: 480.991.3617 / Location: The Quad / View Directory Map
---
Calypso St. Barth
Since launching its first store in 1992 in St. Barth, Calypso St. Barth has grown to a luxury lifestyle brand with a passionate international following. Inspired by travel, culture & the arts, the brand reveals unique & feminine pieces, which women of every age have come to love. From exotic dip dyed caftans to luxurious cashmere cardigans, the brand's apparel and accessories are designed for women to endlessly mix and match into countless combinations of effortless elegance.

The brand's luxury boutiques, like its merchandise, offer a wonderfully refreshing sense of escape. Calypso St. Barth's namesake collection is displayed alongside carefully curated pieces from international designers for an eclectic assortment with wide appeal. Visitors not only encounter
exquisite textures, rich colors and special embellishments, but a unique sense of Calypso St. Barth's inimitable joie de vivre.
Phone: 480.596.5044 / Location: The Quad / View Directory Map
---
Carine W
Carine W offers casual, classy, and affordable women's fashion for the discriminating buyer. We feature designer and private label fashions, expert fashion consulting, custom fitting, and alterations.
Phone: 480.991.9789 / Location: South Street / View Directory Map
---
Carole's Couture
Carole's Couture is a chic and classy Scottsdale women's clothing boutique delighting shoppers with the latest designer fashion accessories in Scottsdale, Arizona. Carole's boutique features women's designer clothing, fashion accessories, high end dresses, blue jeans, jewelery, handbags, tee-shirts, dresses, and trendy accessories in Scottsdale.
Phone: 480.275.7387 / Location: South Street / View Directory Map
---
Charlotte Russe
Delivers contemporary clothing and accessories for every aspect of a woman's life - day and night. Soft, fluid and feminine, Charlotte Russe addresses every lifestyle need, integrating fashion and design to make a seamless transition from casual to dressy. Designed for the 15 to 35 year-old customer, Charlotte Russe is for women who want established trend and fashion at value price points. The Charlotte Russe environment is exciting and comfortable, gracefully embodying architecture and design, with unique design features and appealing displays.
Phone: 480.998.6629 / Location: North Street / View Directory Map
---
Dolce Salon & Spa
The largest full service salon & day spa in North America with three locations in Arizona: Chandler, Scottsdale & Peoria. Services include: hair, nails, facials, massage, waxing, body treatments, custom-blended make-up, & spray tanning. Dolce offers event coordinating & unique event space perfect for hosting private parties, bridal showers & baby showers. Dolce is truly a one-stop-shop, complete with a trendy boutique full of accessories & gifts you won't find anywhere else. Our goal is to exceed your expectations on every level. Pamper yourself & Enjoy the Sweet Life!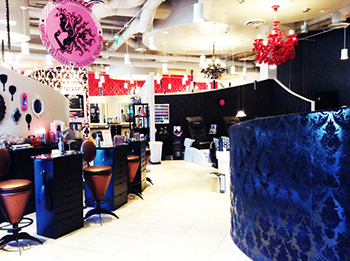 Phone: 480.722.0500 / Location: Greenway-Hayden Loop / View Directory Map
---
Dominick's Steakhouse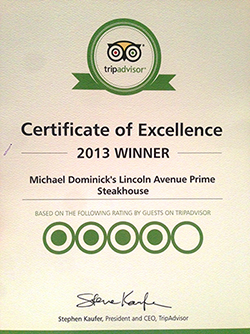 The two-level Michael Dominick's Lincoln Avenue Prime Steakhouse offers a destination dining experience with rooftop poolside dining open to the sky, featuring the best in luxury, exceptional personal service and a menu consisting of prime steaks, fresh seafood, classic Italian specialty items as well as an extensive wine selection of California and European varietals.
Menu | Early Bar Menu
Phone: 480.272.7271 / Location: 72nd Place / View Directory Map
---
Drybar
Drybar is a brand new "blow dry bar" concept created around a very simple idea: No cuts. No color. Just blowouts for only $40. You see, we believe that almost everyone (even us pros) prefers having someone else blow out their hair. Why? It just looks better! We also believe there has to be a better option than paying $60+ at a traditional salon, or going to a less-than-desirable discount chain. But there's not. So, we decided to make one.
Phone: 480.607.5064 / Location: South Street / View Directory Map
---
Elan Style
Elan offers a sophisticated mix of contemporary clothing and accessories for every budget, all in an comfortable setting for shopping and socializing. Easily find that great outfit for a night out with the girls, the perfect sexy dress for that hot date or a fun accessory to complete your look. Come play with us soon!!!
Phone: 480.941.5575 / Location: South Street / View Directory Map
---
Express
Become a fashion trendsetter with the latest in women's and men's clothing from Express.
Phone: 602.635.4530 / Location: North Street / View Directory Map
---
FLOR
We're FLOR. We make 50 cm (19.7 inch) carpet squares of beautiful softness in a vast array of colors, textures and patterns. Our innovative system of carpet squares can be arranged in any shape or size to create distinctive rugs, runners or wall-to-wall designs. Come visit our new Scottsdale location, let's design a rug together.
Phone: 480.991.3400 / Location: North Street / View Directory Map
---
Forever 21 - Coming Soon!
At Forever 21, style isn't dictated…It's inspired. Forever 21 is the leading fashion retailer of the latest trends and the season's hottest styles at can't-resist-prices. U.S. and international locations stay true to the fast-fashion destination's iconic store aesthetic giving fashion fans all over the globe the unforgettable shopping experience that is the one and only Forever 21.
Phone: Coming Soon! / Location: North Street / View Directory Map
---
Fresh Produce
From casual dresses and stylish jackets to carefree tunics and vibrant skirts, Fresh Produce has inspiring clothes for you to wear every day. Visit the Fresh Produce store at Scottsdale Quarter to add color to your wardrobe.
Fresh Produce is known for easy-to-wear, comfortable pieces that are flattering on all shapes and sizes. Shop here for a wide selection of women's clothing including sun dresses, casual dresses, summer clothing, travel skirts, swim suit cover ups, tunics, shorts, cruise clothes and sweatshirts. Visit our Scottsdale store today!
Phone: 480.609.9445 / Location: South Street / View Directory Map
---
Galicia Fine Jewelers
Galicia Fine Jewelers brings the beauty of high quality stones and expert workmanship to its new boutique at Scottsdale Quarter! A family business, founded by Lisa Garber in New York in 1995, Galicia Fine Jewelers brings to Scottsdale style, sophistication and a devotion to the magic of breathtaking jewelry. Call for an appointment now at 480-421-9688 or visit us and find the perfect diamond, platinum, gold, silver or colored gem for you or someone special.
Phone: 480.421.9688 / Location: The Quad / View Directory Map
---
Gap
Gap is a leading international specialty retailer offering clothing, accessories and personal care products for men and women. Offering a wide variety of men's and women's casual clothing from classic khakis and jeans to sweaters and t-shirts.
View Gift Ideas
Phone: 480.991.2861 / Location: 72nd Place / View Directory Map
---
GapKids/babyGap
Gap-inspired casual clothing for children sized 2-12, as well as the BabyGap line of apparel, accessories and toys for newborns to two year olds. Comfortable, colorful styles in sturdy basics that appeal to both children and parents.
Phone: 480.998.2534 / Location: 72nd Place / View Directory Map
---
Grimaldi's Pizzeria
A taste of NY comes to Scottsdale Quarter in Scottsdale. Famously known for their thin crust, coal fired brick-oven pizzas and calzones, Grimaldi's Pizzeria offers over 100 years of pizza making traditions. In addition to their world famous pies, Grimaldi's serves up freshly prepared salads and desserts in an upscale yet casual, family-oriented pizzeria.
Food Menu | Dessert Menu | Wine Menu | Beer Menu
Phone: 480.596.4070 / Location: South Street / View Directory Map
---
H&M
H&M offers a broad and varied range that allows customers to find their own personal style. The collections are created with H&M's broad clientele in mind and the aim is to satisfy many different tastes and requirements. The range includes everything from modern basics to high fashion reflecting the very latest international trends. The collections are supplemented by matching accessories, nightwear, underwear and cosmetics.
Phone: 480.607.6930 / Location: 72nd Place / View Directory Map
---
Industrie Denim
Industrie Denim's mission is to be the best denim store in the world; to have the best and largest selection of denim jeans and related products to fulfill the needs and tastes of every customer that comes through our doors. Our products have a sense of "Heritage" and "Timeless Style" making a purchase not just one for the season, but a purchase that will last numerous seasons and whose products are inspired by the past. We also include the many earth conscious and eco friendly denim products. Each shop has a resident "Jean-ius" who has a superb knowledge of the wide variety of fits and washes of the many vendors carried by Industrie Denim. Industrie Denim features the "Booty Cam" in a number of its dressing rooms to assure perfect fit. Brands; Industrie Denim is anchored by the most complete collection of Levi Strauss products and the products of RRL/Polo Ralph Lauren's premium denim collection. Other brands include: Adriano Goldschmeid, Comme Des Garçons, Current/Elliott, Engineered Garments, Fry Boots, J Brand, Ksubi, Nudie Jeans Co, Rag & Bone, Red Wing Shoes, Wings+Horns, and many, many more.
Phone: 480.609.7307 / Location: The Quad / View Directory Map
---
Intermix
INTERMIX provides an intelligent and cosmopolitan fashion medium that allows its clients to express themselves and their individuality. The INTERMIX environment and philosophy encourages an exciting and approachable shopping experience. Showcasing the latest trends from hand-selected designers, INTERMIX caters to an intelligent, confident, modern woman with an affinity for fashion.
Phone: 480.991.0365 / Location: 72nd Place / View Directory Map
---
iPic Theaters
At iPic Theaters, we have a passion for movies and provide you with the ultimate escape. Comfort, selection and service separate iPic Theaters from the others. We are transforming Scottsdale's movie-going experience to a great evening out thanks to amenities such as reserved online seating, complimentary valet parking, complimentary popcorn, as well as food and beverage service during the film. Movie goers can select from an extensive list of wines by the bottle or glass, a wide variety of draught and bottled beers and a full, seasonal menu selection that's full service or grab-and-go.

We have eight auditoriums, featuring two tiers of custom-designed plush seats, wall-to-wall movie screens and state-of-the-art technology. Our theaters and services are also available for private events.

Just inside the lobby of iPic, you will find Salt. The hip and stylish Salt Lounge is the perfect place to relax, in the lounge area before or after a movie, or be your destination for the night's festivities, at the bar or on the dance floor. With a custom menu of creative, fresh cocktails and appetizers designed by world renowned mixologist Adam Seger and a live DJ on the weekends, Salt can satisfy all your cravings. For those more significant nights, we are also available for private events.

Visit us online at:
www.iPicTheaters.com
www.TheSaltClub.com
Phone: 480.483.3232 / Location: The Quad / View Directory Map
---
IT'SUGAR
It's at the intersection of attitude and fun. Just upstairs from irreverence, right down the hall from pleasure. A place that takes candy, and turns it into an experience. Where you can listen to the music as loud as you want, laugh at the top of your lungs, and dance if you feel like it. A place where the answer is always "yes," and a place that's a little too good to be true. It's a place about joy, taste, color, and sound. Sweet and sour, rich and creamy - that's how life should be, and that's how it is at IT'SUGAR!
Phone: 480.443.0342 / Location: The Quad / View Directory Map
---
Kendra Scott
In 2002, with just $500, Kendra Scott launched a mini jewelry collection. Today, Kendra Scott Jewelry is a global multimillion-dollar brand sold at renowned retailers like Nordstrom, Neiman Marcus, Bloomingdales and over a thousand specialty boutiques worldwide. Austin remains home to Kendra Scott's flagship store and design studio headquarters, where each Kendra Scott piece is meticulously designed.
Kendra Scott has become a household fashion name to women around the world. Celebrities also love Kendra's unique, bold designs and Hollywood a-listers like Sofia Vergara, Eva Longoria, Hilary Duff and Brooklyn Decker have been spotted donning Kendra Scott's jewelry.
As the Kendra Scott brand continues to expand, Kendra remains committed to the company's founding philosophies, "Family, Fashion & Philanthropy", which have helped direct its course. As a mother and business woman, Kendra's "family first" mantra continues to be a core value for Kendra and her company. Philanthropy is also a driving force for this fashion-forward and savvy entrepreneur.
Phone: 480.525.9265 / Location: The Quad / View Directory Map
---
LaserAway
We are the Leaders in Cosmetic Laser & Aesthetic Services. Specializing in Laser Hair Removal,Tattoo Removal, Skin Rejuvenation,Botox®, Juvéderm®, Radiesse®, Latisse® and Body Contouring featuring Thermage®, Zerona® and VelaShape™. We are pleased to offer complimentary consultations for all services. Please contact us at 480.948.2929 to schedule an appointment.
Phone: 480.948.2929 / Location: South Street / View Directory Map
---
Le Creuset
Bring color to your home with Le Creuset. Our new Le Creuset store features Le Creuset Enameled Cast Iron that is still hand made by artisans in France. The store also features a wide array of coordinating Stoneware, Stockpots, Teakettles, and Textiles in addition to Screwpull corkscrews and barware. You will also find French Thiers Issard cutlery that is made to their specifications in France.
Phone: 480.948.1439 / Location: North Street / View Directory Map
---
LensCrafters
Eyeglass retail and optometrist office. This location makes and dispenses prescription eyeglasses as well as selling and fitting contact lenses. Eye exams are also available.
Phone: 480.607.8146 / Location: South Street / View Directory Map
---
L'OCCITANE
In the sun-drenched countryside of the south of France, L'OCCITANE harvests natural ingredients and distills essential oils for effective and sensorial skincare, body care and fragrance products. With traceable ingredients, experiential formulas, and a commitment to social responsibility, L'OCCITANE unites nature and lifestyle to provide peaceful, earthly calm with the benefit of visible, tangible results.
Phone: 480.607.4478 / Location: The Quad / View Directory Map
---
LUDVIC Art Gallery
Ludvic
Phone 1-800-724-4060
Location North Street
Hours Sun 12p-6p
Mon-Sat 11a-8p
Phone: 1.800.724.4060 / Location: South Street / View Directory Map
---
lululemon athletica
lululemon athletica makes technical clothing for yoga, dancing, running, and most other sweaty pursuits. Our original intent is to create components for people to live longer, healthier, more fun lives.
Phone: 480.922.2544 / Location: The Quad / View Directory Map
---
Nambé
Tabletop designs that perfectly suit every mood and moment of your life. From oven to table, from a wedding to a new baby, from you to your next generation, design your life with Nambé.
Phone: 480.483.0664 / Location: The Quad / View Directory Map
---
Oil & Vinegar
Oil & Vinegar is the premier culinary gift shop with an assortment of gourmet products from around the world. We offer a wide range of products including premier oils, fine vinegars, delicious dressings, olives, seasonings, pestos and herbs and spices – everything to make gift giving and entertaining more tasteful. We focus on customer service, adventure, and experience. We offer a minimum of 25-30 tasting samples daily; unique products and ceramics unavailable elsewhere, complimentary gift wrap service, and unbeatable hospitality. We are bringing a taste of Europe to the US.
Phone: 480.634.8773 / Location: North Street / View Directory Map
---
Pandora
PANDORA is a universe of beautiful hand-finished jewelry in sterling silver and 14k gold adorned with precious and semi-precious stones. PANDORA believes all women of the world are unique with their own unforgettable moments. We offer stylish and affordable luxury for these women with our wide selection of charms, earrings, rings and watches. Life is full of unforgettable moments, what's yours?
View Gift Ideas
Phone: 480.991.1199 / Location: North Street / View Directory Map
---
Paper Source
Paper Source is a premier paperie and retail store offering a unique selection of fine and artisanal papers, stationery, invitations, gift wrap, greeting cards, quirky gifts and a custom collection of envelopes and cards. Paper Source offers an original and distinctive aesthetic, with a color palette and proprietary designs that are developed and created exclusively by us.
View Gift Ideas
Phone: 480.219.1640 / Location: North Street / View Directory Map
---
Paris Optique
Paris Optique is a unique experience in luxury eyewear featuring a diverse selection of frames for individual lifestyles. With our on-site lab and skilled opticians, we personally assure the best fit for your prescription eyewear.
Phone: 480.585.8500 / Location: The Quad / View Directory Map
---
Pottery Barn
Our in-house designers draw their inspiration from time-honored models in America and around the world to create unique collections at an excellent value.
Phone: 480.948.6095 / Location: 72nd Place / View Directory Map
---
Press Coffee
View Menu
Press Coffee Roasters was born out of Press Coffee, Food and Wine located in Phoenix, AZ at City North. The Roasting operation was created out of our need for high quality fresh roasted coffee with an emphasis on retaining the natural characteristics of the bean. Unlike many coffee roasters in Phoenix we have a retail coffee shop letting us really connect with our coffee. We pride ourselves in the knowledge we have about our coffee; whether it be a specific growing region, roasting a coffee to an exact profile, extracting an outstanding espresso, pouring a perfect cappuccino, or finishing a drink with stunning latte art. We strive to be leaders in Arizona coffee and continue to gain and share knowledge about the most current developments in the specialty coffee industry. While we take great pride in our coffee we also many other items that include 100% Organic, Fair Trade, hot and cold teas, amazing pastries and deserts that will tempt the most discriminating palette!

Press Coffee Roasters takes an artisanal approach to roasting and is only done in small batches; we find this the best way to maintain a high level consistency and quality. We meticulously source and roast coffees from various regions all over the world. During our coffee sourcing process we sample roast and cup multiple coffees from each of the regions that we carry. After selecting the best representative coffees, we then fine-tune our roasting process to bring out the best inherent flavor in each coffee. It is a time consuming process, but we do this to ensure that only great coffees will bear the Press Coffee Roasters name. Please enjoy the coffee we are so proud to serve at Scottsdale Quarter!

Phone: 480.718.9762 / Location: South Street / View Directory Map
---
Restoration Hardware
Restoration Hardware is positioned as a lifestyle brand and design authority, offering dominant assortments across a growing number of categories, including furniture, lighting, textiles, bathware, decor, outdoor and garden.
Phone: 480.658.1021 / Location: 72nd Place / View Directory Map
---
Sephora
Sephora is the largest prestige beauty retailer in the world. Featuring thousands of products from over 200 brands, you're encouraged to try everything in the store. And if you have a question, Sephora's team of beauty experts has your answer - from finding the perfect shade of foundation to personalizing your daily skincare routine. If there's one thing Sephora stands for, it's passion for beauty.
Phone: 480.607.6638 / Location: 72nd Place / View Directory Map
---
SOL Mexican Cocina
SOL Cocina is a unique restaurant and bar celebrating traditional Baja cuisine with a fresh, modern interpretation. Designed to echo the expansive sea, sky, and desert of the Baja peninsula, SOL features old world charm juxtaposed with an urban comfort.

Happy Hour 7 Days a Week 3:00 pm – 6:00 pm | Happy Hour Menu

Lunch | Lunch Menu
Monday-Friday: 11:00 am – 4:30 pm
Saturday & Sunday: 10:00 am – 4:30 pm

Weekend Brunch | Brunch Menu
Saturday & Sunday: 10:00 am – 3:00 pm

Dinner | Dinner Menu
Sunday-Thursday: 4:30 pm – 10:00 pm
Friday-Saturday: 4:30 pm – 11:00 pm
Vegan Menu | Private Dinning Menu | Kids Menu

Bar Open | Drink Menu
Sunday –Thursday 11:00 am – 1:00 am
Friday & Saturday until 2:00 am

Featuring Live Acoustic Music
Tuesday 5:30 pm – 8:30 pm
Sunday 12:00 pm – 3:00 pm
Phone: 480.245.6708 / Location: Greenway-Hayden Loop / View Directory Map
---
Suitsupply
PHILOSOPHY
Suitsupply is a market defining brand showing strong international growth.
We are pioneers at everything we do, and we work hard to keep it that way. Our pioneering spirit generates a contagious energy, which is what enables us to keep putting new ideas into practice.
Our strength lies in our formula: straight, to the point and still personal. Fast and effective. Combining craftsmanship with flair.
There are few things that distract us. This approach enables us to create an environment in which our customers feel that we only have eyes for them. We are there for people who want to be seen.
Phone: 602.338.9200 / Location: The Quad / View Directory Map
---
Sunglass Hut
Provider of several sport and fashion sunglasses from the world's top designers and manufacturers.
Phone: 480.443.5643 / Location: South Street / View Directory Map
---
Tanzy
View Menu
Tanzy Scottsdale's menu is an inventive take on artisanal cuisine which combines traditional culinary techniques with contemporary style to deliver an unexpected dining adventure. Tanzy's premiere Mozza Bar, features tastings of the finest cured meats, artisan breads and the freshest mozzarellas designed by our Executive Chef. Unwind and mingle at Tanzy's full-service bar offering an exclusive menu of craft cocktails, mojitos and show-stopping liquid nitrogen mixology. Serving Lunch, Dinner and Weekend Brunch.
Phone: 480.483.3255 / Location: The Quad / View Directory Map
---
TK's Urban Tavern
TK's Urban Tavern puts a contemporary twist on the timeless tavern tradition. Located in the heart of the bustling Scottsdale Quarter, this neighborhood mainstay attracts area visitors, families and foodies alike. Guests can relax in the warm dining room or the comfortable bar and savor the aromas from the open show kitchen. Serving mouthwatering classic American fare, handcrafted cocktails and a carefully selected wine list in a casual setting yet sophisticated design, TK's Urban Tavern is also the perfect stop after a long day at work, or power shopping at one of the area's premiere retail destinations.
Dinner Menu | Lunch Menu
Phone: 480.664.0873 / Location: South Street / View Directory Map
---
Travel Outfitters
TravelOutfitters your #1 stop for all your luggage & flying accessorie needs.
Phone: 480.607.6500 / Location: North Street / View Directory Map
---
True Food Kitchen
True Food Kitchen offers a globally inspired, seasonal menu appealing to anyone seeking a more balanced lifestyle. True Food Kitchen celebrates high quality locally and regionally sourced ingredients to create a pure, simple menu that tastes great while nourishing mind, body and spirit.
Brunch Menu | Lunch Menu | Dinner Menu | Dessert Menu | Kids Menu
Phone: 480.265.4500 / Location: The Quad / View Directory Map
---
Urban Outfitters
Selling clothing, accessories, and apartment wares for young women and men
Phone: 480.315.9791 / Location: 72nd Place / View Directory Map
---
Verde' Maison
Verde' Maison is a natural and organic cosmetic, skincare, bath and body store that also specializes in natural spa services.
Phone: 480.563.0449 / Location: South Street / View Directory Map
---
west elm
Fresh and modern, west elm draws in design-savvy customers with stylish, high quality furniture and accessories for every room in their home. With an extensive range of prices, the brand has earned a reputation for affordable style, and has grown into a destination lifestyle concept known for unique, exclusive and innovative design.
Phone: 480.948.3722 / Location: 72nd Place / View Directory Map
---
Zinburger
Few things in life are better than a tasty milkshake and a great Certified Angus burger. Zinburger perfects both every day. Our hand-cut zucchini, sweet potato, and truffle fries will encourage a selfish need to order all three. What's our secret? The restaurant itself… filled with a bright and youthful energy, it makes you feel just like a kid again. It's awfully hard not to enjoy yourself when surrounded by fields of green grass, light polished wood and a cross-section of the happiest people on the block. Our lineup of modestly priced and perfectly paired wine selections complements every style of burger on the menu, correctly putting the Zin in Zinburger.
Phone: 480.285.0690 / Location: The Quad / View Directory Map
---